Experienced Raleigh Car Accident Attorneys
You Pay Nothing Unless We Win Your Case
Car accidents happen in a flash and can change the life of an individual or family in an instant. In the aftermath of the accident, not only will you deal with the mental anguish of recovery and the destruction of your property, but you will also ultimately be forced to deal with financial fallout that may last for years to come.
We understand the devastation that car accidents can bring and have fought for accident victims just like you for over four decades. When you choose Henson Fuerst to represent you, you can expect to be treated like family and provided with honest and compassionate legal representation. If you have questions about an accident you were involved in, contact our Raleigh car accident lawyers for a free consultation by calling 919-781-1107 or submitting a free case evaluation today.
North Carolina is a Contributory Negligence State
North Carolina is one of four states that practice contributory negligence and may cause your claim to be denied if the insurance company can prove that you were as little as 1% at-fault. This may be used as a defense to avoid liability for the opposing party. We will guide you every step of the way and get the maximum settlement possible for your injuries, lost wages, future medical care, and pain and suffering.
You need an experienced law firm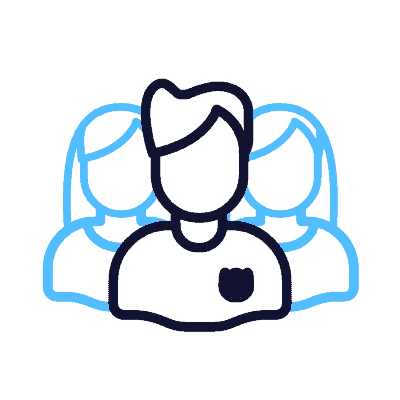 Over 150 years of combined experience
We have been serving accident victims since 1976. If you need a car crash lawyer in Raleigh, North Carolina, contact us today.
Our law firm is highly rated by our clients
Winning a settlement is just the beginning of what our personal injury attorneys can do for you and your family. Our reviews speak for themselves.
Our team is available 24 hours a day
Contact our Raleigh personal injury attorneys day or night to get help with your case. Our team is on-call 24/7 and here for you when you need us.
"My husband was in an auto accident with life threatening injuries. I called Henson Fuerst Attorneys for assistance in my husband's case. Mr. Mason and Ms. McPhatter handled all our legal needs while my husband went through extensive medical recovery and helped take stress off of us so we could focus on my husband's care. They were very attentive to our case and us personally. My husband and I are very happy with their professional services and care. I highly recommend Henson Fuerst to anyone who requires assistance with an injury case. Thank you so much for all your efforts in our case."
Frequently Asked Questions
What is the cap on punitive damages in North Carolina?

In North Carolina, most punitive damages are capped at three times the amount of compensatory damages or $250,000 – whichever is greater.
How long do most car accident cases last?

The time it takes to resolve a case depends on many factors. The most important is what happened in the wreck and what were the resulting injuries. For example, cases involving soft tissue injuries that get better with treatment from an orthopedic or chiropractic doctor and physical therapy can typically be negotiated and settled without filing a lawsuit and generally last six to nine months. Cases that involve more substantial injuries, such as broken bones or surgical procedures, typically last nine to 15 months. Finally, cases that involve more substantial and permanent, life-long injuries can last one to three years, depending on the circumstances. If we file a lawsuit instead of settling out of court, it may take an additional 16 to 24 months or longer before the case is resolved.
Is the insurance company's offer "fair"?

The answer depends on whether you feel that the amount of money offered by the insurance company is enough to avoid the hassle of going forward with litigation. Many people ask friends or family members who have had car wrecks how much they settled their cases for. In our experience, this can be misleading because no two cases are the same. At Henson Fuerst, when we have a "final" offer from the insurance company, we meet with you and explain all of your legal options. Typically, that means you can accept the final offer or reject the offer and file a lawsuit. It's our job to explain the risks and benefits of each option so you can make the decision that best fits your personal situation.
How does an personal injury lawyer negotiate my case?

Generally, before we file a lawsuit on your behalf, our North Carolina auto accident attorneys will attempt to negotiate with the insurance company to reach a settlement. In the majority of cases we handle, we do not begin negotiating your case until you have healed. This way, we are aware of all the damages and losses related to your injuries and how those damages will affect your quality of life.
Why should I hire an attorney after an accident?

Our North Carolina auto accident lawyers recommend that you seek the help of a lawyer if:

Your claim involves large injuries
you had (or continue to have) substantial medical treatment (treatment that extends beyond more than a few visits to a doctor)
You have suffered permanent injury that resulted in scarring, the need for surgery, or a permanent disability
How much could someone sue for a car accident?

There is no limit to how much compensation you can seek in a car accident lawsuit. The compensation sought is based on what injuries were sustained and their severity. This could be anywhere between thousands of dollars and millions.
How long after an accident could you make an auto accident claim?

The statute of limitations to file an injury claim in North Carolina is three years from the date of the accident. However, for your best chance at maximum compensation, you must speak with a reputable car accident lawyer and file a claim as soon as possible.
What should I do after a car accident?
Emotions are high after a car collision, and there is a lot of confusion on the scene. There are, however, several precautions you may take to safeguard yourself and any claim you decide to pursue in the future.
Don't Leave the Scene.You should only leave the accident area after exchanging information with others involved in the crash and receiving permission from any law enforcement officers there. You risk being charged with hit-and-run if you leave before then.
Check for Injuries.You should only leave the accident area after exchanging information with others involved in the crash and receiving permission from any law enforcement officers there. You risk being charged with hit-and-run if you leave before then.
Call the Police.If there are any injuries, dial 911 immediately. Having a law enforcement officer there, regardless of any injuries, may be beneficial if discovered that the other driver is driving while intoxicated or without insurance.
Move Vehicles.If the crash is minimal and there are no significant injuries, try to relocate all vehicles to the road's shoulder and away from the traffic flow. This will help avoid a larger traffic delay and make it easier for first responders to get to the accident.
Obtain Insurance and Personal Information.Identify any other drivers who may have been involved in the collision and gather their names, contact information, driver's license number, and insurance company and policy number. If there are any witnesses, you should also collect their information.
Document and Gather Evidence.When you have a chance, write down everything that happened before and after the accident as accurately as you can. Take photos of any damage to the car, skid marks, or weather conditions in the vicinity. Look around to check whether any cameras, such as traffic or security cameras, are nearby. Make a mental note of where they are in case you need a copy of the footage.
Watch What You Say.If you're unsure if you're to blame for the accident, don't admit fault. Also, don't lie, especially if you're making a police statement.
Notify Your Insurance Company.Regardless of who is at fault for the car accident, it is critical to contact your car insurance company as quickly as possible. Failure to notify your insurance company in a timely manner could risk your coverage.
We have represented

thousands of personal injury victims

in our 45 years.
A child involved in a truck accident suffered numerous brain bleeds as well as severe and permanent cognitive, physical, and emotional deficits as a result of his Traumatic Brain Injury. The case was filed in court and settled after multiple depositions of the parties and medical experts. The settlement was collected in full.
Stay Up-To-Date with the Personal Injury Attorneys at Henson Fuerst
Our Raleigh car accident lawyers strive to keep our community educated and informed about the latest trends and events regarding car safety and accident prevention. Browse our most recent blog posts here:
We never charge a fee unless

we obtain a recovery

for you. If a recovery is not made, you pay us nothing.
Raleigh Car Accident Attorneys who care about protecting your rights.
What you can expect when choosing our personal injury attorneys to represent your case
The Raleigh car accident attorneys at Henson Fuerst understand how difficult it may be to get compensation after a car wreck, especially given North Carolina's contributory fault rules. This implies that in order to get compensation, the sufferer must be completely blameless in the accident. You may be able to recover medical bills, lost earnings, and pain and suffering if it can be shown that you were entirely free of fault. Because contributory negligence makes blaming another driver for an accident more difficult, you may need the assistance of a Raleigh car accident lawyer.
For over 45 years, we've been helping accident victims throughout North Carolina fight for the full and fair compensation they need. If you've been involved in a car accident, our attorneys will advocate for you throughout the settlement process. Insurance claims adjusters are tasked with safeguarding the interests of their employers, which may or may not coincide with your needs. We will work hard to protect your best interests and help you recover fair compensation for your accident claim. Contact us today by calling 919-781-1107 or submitting a free consultation form online.
There are many factors to consider when determining fault in a car accident case
According to the National Highway Traffic Safety Administration (NHTSA) studies, driver error is the primary cause of automobile accidents in the United States. Accidents caused by someone else's recklessness or negligence such as poor judgment, driving distracted or under the influence, and fatigue, fall into the category of driver error. In these cases, a specific person may be held liable for their actions.
Other factors such as road or car defects can also lead to serious accidents. Common roadway defects that may indicate a road was not properly constructed or maintained include:
Potholes
Soft shoulders, meaning that the shoulder on the side of the road is made of gravel or packed dirt rather than asphalt
Defective guardrails
Improper drainage can cause the road to be slick and cause hydroplaning
We fight to get you the maximum compensation necessary for your recovery.
A commercial truck driver ignored DOT caution signs regarding a previous crash. The tractor-trailer crashed into our client, who was the last car in the line of traffic. The plaintiff was taken to the hospital and discharged with post-traumatic headache. Months later, our client was diagnosed with many more injuries that resulted from the accident and was unable to return to competitive employment. The settlement was collected in full.
Get a Personal Injury Lawyer That Cares
Car Accident Lawyer

Thomas Henson, Jr.
Thomas Henson, Jr. joined Henson Fuerst in 1989. He received his Bachelor of Science degree in Business Administration in 1986 and his Juris Doctorate in 1989—both from the University of North Carolina at Chapel Hill. Thomas understands how an accident injury affects the lives of victims.
He is experienced in handling complex accident claims involving catastrophic injuries and currently serves on the Board of Directors for the Brain Injury Association of North Carolina (BIANC). He advocates for brain injury victims and their families across North Carolina and has presented at multiple conferences for victims of Traumatic Brain Injury (TBI), their caregivers, and brain injury professionals.
3110 Edwards Mill Rd Suite 100,
Raleigh, NC 27612
P
(919) 781-1107
F
(919) 781-8048