Experienced Durham Workers' Compensation Lawyer
You Pay Nothing Unless We Win Your Case
For both families and workers, a serious workplace accident can do more than just physical harm. Instead of focusing on your recovery, you may become distracted with feelings of frustration, anxiety, and uncertainty about the future. Who will provide for your loved ones? How are you going to pay your bills? What are your options? It can be extremely overwhelming to be thrown into a process so unfamiliar without any support while you're trying to recover.
Contact the Durham, North Carolina workers' compensation lawyers at Henson Fuerst today for a free consultation.
A workers' compensation lawyer can help you
Over 150 years of combined experience
We have been serving accident victims since 1976. If you need a workers' compensation lawyer in Raleigh, North Carolina, contact us today.
Our law firm is highly rated by our clients
You can expect to be treated like family and provided with honest and compassionate legal representation. We have helped thousands of clients just like you.
Our team is available 24 hours a day
Contact our Durham workers' compensation lawyer day or night to get help with your case. Henson Fuerst will to stand up for your rights.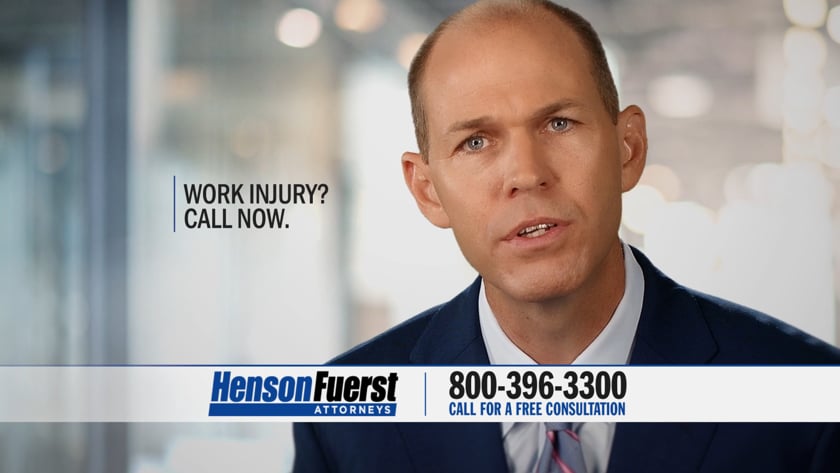 "I had a work injury. The owner of the company did not have workers' compensation insurance. I was afraid doctor bills wouldn't get paid, so I retained this company. My employer also never offered a dime outside of doctor bills. Joey and Kim worked my case. They were so amazing and stuck with me every single step of the way. They put my mind at ease. If you are looking for an attorney and paralegal who know all of the ins and outs of these cases, and work to get for you what you deserve, Joey and Kim are exactly what you need!"
Frequently Asked Questions
How Long Do I Have To File a Workers' Compensation Claim in North Carolina?

Employees should submit their claim within thirty days of the accident occurring. Unless the employer pays salary replacement compensation, injury by accident claims must be filed within two years after the date of injury. If the employer has covered the cost of medical care, the claim must be filed within two years after the last payment.
How Much Does Workers' Compensation Pay?

It all depends on how much money you're making at the time of the accident. According to state law, a worker in North Carolina is entitled to two-thirds of their average weekly salary each week. The average weekly pay can be calculated in a variety of ways by an insurance company. According to the law, the insurance company must look back one year from the date of the accident to determine how much the worker earned before taxes during that time. The average weekly pay is calculated by dividing that amount by 52 weeks. Then, the earned amount is divided by the number of weeks worked if a person worked less than 52 weeks.
What Injuries are Covered Under the Workers' Compensation Act?

Workers' compensation covers almost any physical injury sustained at work, as well as a variety of job-related illnesses. The most common injuries named in workers' compensation claims include:

Back injuries
Head and neck injuries
Broken bones
Cuts, lacerations, and puncture wounds
Strains and sprains from overexertion
Crushed limbs
Blindness
Deafness
Burns
Soft tissue injuries
Respiratory problems
Repetitive motion injuries
Toxic exposure
Amputations
Concussions
Knee injuries
Nerve damage
Traumatic brain injuries

A prior ailment or condition will not qualify unless the employment requirements substantially worsened it.
What should I do after suffering a work injury?
Seek immediate medical attention
If your workplace has a designated healthcare provider, seek medical attention with that provider. If not, seek appropriate medical attention elsewhere. Communicate the name of your employer and how your accident happened to your healthcare provider. Your provider will use this information to bill your treatment as a workers' compensation claim.
Report your injuries to your employer
As soon as possible, tell your highest-ranking manager or the owner of your company about your injuries. If you can report your injuries in person, do so. Otherwise, have a family member or healthcare provider notify your employer.
Give your employer written notice of your injuries
Within 30 days of your accident, send a simple written notice of your injury to your employer. All that is necessary is a brief description of the accident and injury. If you're unable to write a letter, have a family member or healthcare provider send one. Be sure to keep a copy for your records.
Follow your healthcare provider's instructions
Related Workers' Compensation Stories
With devotion and unwavering determination, our personal injury lawyers have won tremendous settlements and verdicts for clients for over four decades. As a client and friend, we'll be here for you throughout the life of your case.
We never charge a fee unless we obtain a recovery for you. If a recovery is not made, you pay us nothing.
Get A Workers' Compensation Lawyer in Durham, NC that cares about protecting your rights.
Insurance Companies Take Advantage of Injured, Desperate Workers
Once your employer's insurance provider discovers you were injured at work, a claims adjuster will be assigned to your case before you even get a chance to start on the road to recovery. But beware, the insurance adjuster is employed by the insurance company, not by you. This means you can't count on them to have you and your family's best interests in mind. Chances are, they're going to treat you as just another number in their system. Workers' compensation adjusters have their own set of methods for investigating, defending, negotiating, and settling cases. It may feel as though no one is on your side and the insurance company is looking to catch you in a lie. At Henson Fuerst, we believe in our clients. We're on your side and will fight to get you back on the road to recovery and financial security.
You're Not Just a Number. Your Case Matters
When you're battling the insurance company, you need someone to fight for you every step of the way to prevent your claim from being downplayed or denied so that you receive the right care. You deserve to be treated as a person, not a number. That's precisely what you'll get from Henson Fuerst. We know the hurdles you'll encounter in your pursuit for compensation, and we'll stand up against the insurance company to ensure that your rights are protected and that you obtain the benefits you are entitled to. We've seen the effects work injuries have on hardworking people. When you don't feel like your voice is being heard, our attorneys will be your advocate. Whether you were injured in a workplace accident or developed a work-related illness, our North Carolina workers' compensation lawyers have the knowledge, resources, and expertise required to provide you and your family with the financial relief and stability of workers' compensation benefits.
We have represented thousands of clients in our 45 years.
While stepping down from a truck, our client suffered a type of ankle fracture called a calcaneous avulsion fracture. His injuries required complicated surgery and aggressive physical therapy. The injury then triggered a complex regional pain syndrome. As a result of this serious medical condition, our client was unable to return to his job. The settlement for our client was fully collectible.
Meet our Durham Workers' Compensation Lawyer
For nearly twenty years Joseph has dedicated his career to representing the working men and women of North Carolina. He is well known and is routinely consulted with and has cases referred to him by other attorneys across the state. Anything from common injuries such as rotator cuff tears and carpal tunnel syndrome to catastrophic injuries such as head trauma and spinal injuries, are all within his area of expertise. He also takes a special interest in representing our state's first responders. He has represented and continues to represent EMS workers, police officers, and firefighters.
3110 Edwards Mill Rd
Suite 210,
Raleigh, NC 27612
P (919) 781-1107
F (919) 781-8048