Eric Goodale is the Social Security disability attorney at Henson Fuerst. He has handled Social Security disability claims for over 20 years and has exclusively practiced disability law for over 15 years. Before joining the Henson Fuerst team in 2012, Eric spent 7 years practicing Social Security disability law for a nationwide disability law firm in Washington, D.C., where he handled more than 500 disability hearings in 38 states. Before his time in Washington, D.C., Eric spent 4 years in a general practice law firm in Syracuse, New York.  Eric earned his Juris Doctorate from Albany Law School in 2000 and he graduated from Penn State University in 1997 with a B.A. in Political Science and a minor in Business Administration. Eric now serves as the senior Social Security disability attorney at Henson Fuerst, a role he has held since 2014.
In addition to his duties at Henson Fuerst, Eric is an active member of the North Carolina Advocates for Justice (NCAJ), where he currently serves as the Vice-Chair of the Disability Advocacy Section and on the Legislative Committee. Previously, he served as the Secretary from 2021-2022, and the Education Co-Chair from 2020-2021. He is also a member and the CLE Chair of the National Organization of Social Security Claimants' Representatives (NOSSCR)'s Conference Committee.
Eric is currently licensed to practice in North Carolina, New York, the United States District Court for the Northern District of New York and the District of Columbia. He prides himself on being an honest, approachable and hard-working attorney. He strives to treat clients respectfully and to be compassionate to the difficult situations his clients often endure. He tries to approach each case from the perspective of the judges who will decide the claim and is willing to be honest about the positive and negative aspects of each case. Eric became an attorney because he had a genuine interest in helping those who may not be able to help themselves and he takes the faith his clients place in him very seriously.
Outside the office, Eric loves to travel, play tennis and watch his beloved Penn State Nittany Lions and New York Yankees. He also enjoys relaxing at a brewery or vineyard and considers himself a connoisseur of microbrews and fine wine. Eric currently lives in Raleigh, NC with his wife Robin and son Jordan.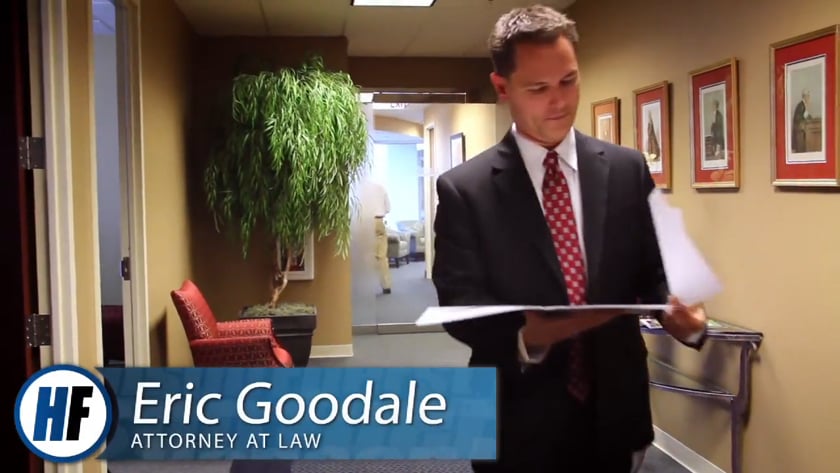 Eric Goodale –  "I pride myself on being an open book to my clients.  I love being able to deal with people and hear their problems and know that I am hopefully their solution."
"Henson Fuerst prides itself on being genuinely concerned with the needs of its clients. The attorneys are the most dedicated and passionate I have ever worked with. It is truly an honor to be a part of the Henson Fuerst family." - Eric Goodale
Education
Bachelor's Degree – Penn State University
Juris Doctorate – Albany Law School
BAR ADMISSIONS
North Carolina
New York
United States District Court, Northern District of New York
District of Columbia
PROFESSIONAL ASSOCIATIONS
3110 Edwards Mill Rd Suite 100,
Raleigh, NC 27612
P (919) 781-1107
F (919) 781-8048
2317 Sunset Ave,
Rocky Mount, NC 27804
P (252) 443-2111
F (252) 443-9429
2200 Gum Branch Rd G,
Jacksonville, NC 28540
P (910) 377-7671
Appointment Only
P (828) 295-7469