Car Accident Lawyer in North Carolina
You Pay Nothing Unless We Win Your Case
It happened. You were driving when suddenly, a car slammed into your vehicle. Car accidents happen in a flash and can change the life of an individual or family in an instant. In the aftermath of the accident, not only will you deal with mental anguish of recovery and the destruction of your property, but you will also ultimately be forced to deal with financial fallout that may last for years to come.
We at Henson Fuerst understand the devastation that car accidents can bring and have fought for accident victims just like you for over four decades. Our lawyers know the laws and will fight to obtain a settlement that covers not only medical bills but also offers continuous assistance for you and your family following an accident.
Our car accident lawyers can help you
Over 150 years of combined experience
We have been serving North Carolina accident victims since 1976. If you need an car accident lawyer, don't wait. Contact us today.
Our law firm is highly rated by our clients
You can expect to be treated like family and provided with honest and compassionate legal representation. We have helped hundreds of car accident victims just like you.
Our team is available 24 hours a day
Contact a car accident attorney day or night to get help with your case. Henson Fuerst will to stand up for your rights.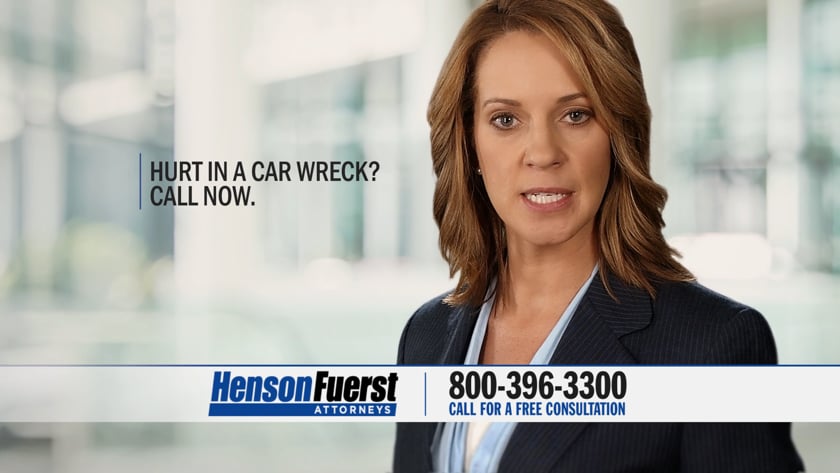 You Can't Count on The Insurance Company to Do What's Right
After a car accident, it's reasonable to assume that the insurance company is on your side. However, you must exercise caution not just with your own insurance company, but also with the other driver's insurance company. Insurance companies have a team of adjusters, accountants, and specialists on staff who are all trained to offer you lowball settlements to protect the company's interests. When insurance companies realize you won't take their first offer, they may begin to ignore you or purposefully delay your claim in the hopes that you will give up or miss the deadline to bring suit. We recognize that your present financial situation may entice you to take an insurance settlement offer that is insufficient to cover the price of damages. However, you don't have to put up with an insurance company that tries to deceive you, downplay your damages, or underpay your claim. At Henson Fuerst, we know the tactics insurance companies use, and we will not let them take advantage of you.
Determining Fault in A Car Accident Case
According to the National Highway Traffic Safety Administration (NHTSA) studies, driver error is the primary cause of automobile accidents in the United States. Accidents caused by someone else's recklessness or negligence such as poor judgment, driving distracted or under the influence, and fatigue, fall into the category of driver error. In these cases, a specific person may be held liable for their actions.
Other factors such as road or car defects can also lead to serious accidents. Common roadway defects that may indicate a road was not properly constructed or maintained include:
Potholes
Soft shoulders, meaning that you shoulder on the side of the road is made of gravel or packed dirt rather than asphalt
Defective guardrails
Improper drainage that can cause the road to be slick and cause hydroplaning
The North Carolina Department of Transportation has strict guidelines to ensure that all roads, streets, and highways are designed and maintained with driver safety as the top priority. If architects, engineers, construction companies, paving companies, or contractors fail to adhere to those rules, they may be held liable for your accident.
Common car defects that indicate a vehicle was manufactured using defective parts or did not undergo the proper safety testing include:
Roof crush
Seatbelt failure
Airbag failure
Fuel-fed fires
Defective tires
In these cases, several parties could be held liable for the accident. These parties include the manufacturer or designer of the auto part and the manufacturer or seller of the vehicle.
The outcome of an automobile accident claim in North Carolina is contingent on proving that the other motorist was at fault. A qualified lawyer can assist you in obtaining all of the evidence necessary to establish liability so you can recover the damages you are owed.
We're the Attorneys Who Care About Protecting Your Rights
When you choose Henson Fuerst to represent you, you can expect to be treated like family and provided with honest and compassionate legal representation. If you have questions about an accident you were involved in, contact our North Carolina car accident attorneys for a free consultation.
Our firm only gets paid when you do. So, if there is no recovery for your case, then there is no attorney's fee. It's that simple. We work hard to defend your rights and help you recover the compensation you need to move forward.
"I had a awful car accident which resulted in 4 long years of pain, surgeries and pain pills. Henson Fuerst, especially Carma Henson, was there every step of the way. The office staff are very pleasant and are so helpful with the process.  After my case was settled, it was like losing a close friend when I said my goodbyes.  They are a great bunch of lawyers with great big hearts."
Common Questions For A Car Accident Lawyer
What is the cap on punitive damages in North Carolina?

In North Carolina, most punitive damages are capped at three times the amount of compensatory damages or $250,000 whichever is greater.
How long do most cases last?

The time it takes to resolve a case depends on many factors; the most important are what happened in the wreck and what were the resulting injuries.

Cases involving soft tissue injuries that get better with treatment from an orthopedic or chiropractic doctor and physical therapy can typically be negotiated and settled without filing a lawsuit and generally last six to nine months.
Cases involving more substantial injuries, such as broken bones or surgical procedures, typically last nine to 15 months.
Cases that involve more substantial and permanent, life-long injuries can last one to three years, depending on the circumstances. If we file a lawsuit instead of settling out of court, it may take an additional 16 to 24 months or longer before the case is resolved
Is the insurance company's offer "fair"?

The answer really depends on whether you feel that the amount of money offered by the insurance company is enough to avoid the considerable hassle of going forward with litigation. Many people ask friends or family members who have had car wrecks how much they settled their cases for. In our experience, this is can be misleading because no two cases are the same.

At HensonFuerst, when we have a "final" offer from the insurance company, we meet with you and explain all of your legal options. Typically, that means you can accept the final offer or reject the offer and file a lawsuit. It's our job to explain the risks and benefits of each option so you can make the decision that best fits your personal situation.
How does a lawyer negotiate my case?

Generally, before we file a lawsuit on your behalf, our North Carolina auto accident attorneys will attempt to negotiate with the insurance company to reach a settlement. In the majority of cases we handle, we do not begin negotiating your case until you have healed. This way, we are aware of all of the damages and losses related to your injuries and how those damages will affect your quality of life.
Why should I hire a lawyer?

Generally, before we file a lawsuit on your behalf, our North Carolina auto accident attorneys will attempt to negotiate with the insurance company to reach a settlement. In the majority of cases we handle, we do not begin negotiating your case until you have healed. This way, we are aware of all of the damages and losses related to your injuries and how those damages will affect your quality of life.
Why should I hire a car accident lawyer?

Our North Carolina auto accident lawyers recommend that you seek the help of a lawyer if:

Your claim involves large injuries,
You had (or continue to have) substantial medical treatment (treatment that extends beyond more than a few visits to a doctor),
And/or you have suffered permanent injury that resulted in scarring, the need for surgery, or a permanent disability.
Important Tips And Information After A Car Accident
What NOT to do after a Car Accident
Do not give a recorded statement without consulting an attorney
Do not post on social media about your injury or claim
Do not forego medical care
Do not use online "Pain and Suffering" calculators
Do not believe hearsay or misinformation
Why You Can't Sue The Insurance Company
It's a common misconception in North Carolina that you can sue the insurance company. In a traditional automobile wreck case, your legal claim is technically against the at-fault driver—not his or her insurance company. The driver's insurance company is obligated to hire an attorney to represent the driver if any claim is made against him or her up to the amount of insurance coverage purchased.
What is covered under Property Damage?
In North Carolina, all drivers must carry insurance with property damage liability limits of at least $25,000. A property damage claim covers the cost of any personal property that is damaged in a car wreck, such as:
Fixing or replacing your car,
Damage to personal items inside the vehicle,
and damage caused by the wreck itself
What is covered under Bodily Injury?
A bodily injury claim covers personal injuries for the occupants of the car (humans only). Under North Carolina law, bodily injury claims can include payment for:
Lost wages
Medical Bills
Out-of-pocket losses
Pain and suffering or human losses,
Permanent Injuries or scarring
Car and Truck Accident News
With devotion and unwavering determination, our car accident lawyers have won tremendous settlements and verdicts for clients since 1976. As a client and friend, we'll be here for you throughout the life of your case.
Absolutely no fee unless we obtain a recovery for you. If a recovery is not made, you pay us nothing. Get help from a car accident lawyer today!
Get a Car Accident Lawyer who cares about protecting your rights.
What you can expect when choosing a Henson Fuerst car accident lawyer to represent your case
The car accident attorneys at Henson Fuerst understand how difficult it may be to get compensation after a car wreck, especially given North Carolina's contributory fault rules. This implies that in order to get compensation, the sufferer must be completely blameless in the accident. You may be able to recover medical bills, lost earnings, and pain and suffering if it can be shown that you were entirely free of fault. Because contributory negligence makes blaming another driver for an accident more difficult, you may need the assistance of a North Carolina car accident lawyer.
Standing up for victims and their families across North Carolina since 1976
For over 45 years, we've been helping accident victims throughout North Carolina fight for the full and fair compensation they need. If you've been involved in a car accident, our attorneys will advocate for you throughout the settlement process. Insurance claims adjusters are tasked with safeguarding the interests of their employers, which may or may not coincide with your needs. We will work hard to protect your best interests and help you recover fair compensation for your accident claim. Contact us today by calling 919-781-1107 or submitting a free consultation form online.
We have represented thousands of clients in our 45 years.
Our client, a 57-year-old armored truck driver, was driving on a highway during a heavy downpour when his vehicle hydroplaned, crashed into the median, and flipped upon striking the barrier. The North Carolina Department of Transportation found that this portion of road had been poorly constructed, which caused rainwater to drain incorrectly and potentially result in dangerous driving conditions. A settlement of approximately $9.5 million was reached.
Meet our North Carolina Car Accident Lawyers
Thomas Henson, Jr. joined Henson Fuerst in 1989. He received his Bachelor of Science degree in Business Administration in 1986 and his Juris Doctorate in 1989—both from the University of North Carolina at Chapel Hill.
Thomas is the Past Chair of the board of directors of the Brain Injury Association of North Carolina (BIANC), advocating for brain injury victims and their families across North Carolina, and currently serves on its board. He has been a presenter at multiple conferences for victims of Traumatic Brain Injury (TBI), their caregivers, and brain injury professionals.
David Mason joined Henson Fuerst in 2018. He has spent most of his career as a car accident lawyer and personal injury litigator and trial attorney, advocating on behalf of injured people in North Carolina.
David attended North Carolina State University in Raleigh and earned his Bachelor of Science degree in Business Administration and minor in Spanish. His passion for justice and helping others brought him to Campbell University's Norman Adrian Wiggins School of Law in Raleigh, where he earned his degree of Juris Doctor. During law school, David represented Campbell Law in the ABA Negotiation Competition. In addition, he completed internships at Wake County District Court, Duke Energy, and multiple Raleigh law firms.
3110 Edwards Mill Rd Suite 100,
Raleigh, NC 27612
P (919) 781-1107
F (919) 781-8048
2317 Sunset Ave,
Rocky Mount, NC 27804
P (252) 443-2111
F (252) 443-9429
2200 Gum Branch Rd G,
Jacksonville, NC 28540
P (910) 377-7671
Appointment Only
P (828) 295-7469