Experienced Raleigh Motorcycle Accident Lawyers
You Pay Nothing Unless We Win Your Case
Riding a motorcycle is more than just a mode of transportation for many. It's a sense of freedom, adventure, and a way of life. However, when you are badly injured in a catastrophic motorcycle accident, your sense of freedom and identity are replaced by pain and worry for the future. The financial and physical burden an accident brings with it can be overwhelming. On top of medical costs, you may also need to take time off work while recovering from your injuries.
When you get hurt in a motorcycle accident, pursuing compensation is one of the most important things you can do. The money that comes from your settlement is crucial to you and your family. Unfortunately, insurance companies don't make it easy for you to recover the compensation you need after a wreck. They may attempt to take advantage of you by tricking or pressuring you into accepting a settlement offer that's far less than you're entitled to.
We understand how difficult life can be after an accident. You have enough on your plate without the added stress of a lawsuit or injury claim. That's where our motorcycle accident attorneys can help. We will advocate for your right to fair compensation and provide you with the compassionate, personalized service you need to get through this whole ordeal and get your life back on track.
Why you should contact the Raleigh Motorcycle Accident Attorneys at Henson Fuerst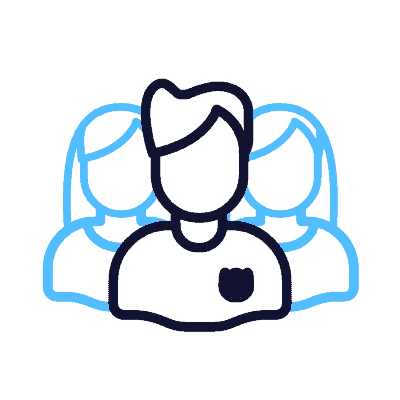 Over 150 years of combined experience
We have been serving accident victims since 1976. If you need a motorcycle accident attorney in Raleigh, North Carolina, contact us today.
Our law firm is highly rated by our clients
Winning a settlement is just the beginning of what our motorcycle accident attorneys can do for you and your family. Our reviews speak for themselves.
Our team is available 24 hours a day
Contact our Raleigh motorcycle accident attorneys day or night to get help with your case. Our team is on-call 24/7 and here for you when you need us.
"My husband was in an auto accident with life threatening injuries. I called Henson Fuerst Attorneys for assistance in my husband's case. Mr. Mason and Ms. McPhatter handled all our legal needs while my husband went through extensive medical recovery and helped take stress off of us so we could focus on my husband's care. They were very attentive to our case and us personally. My husband and I are very happy with their professional services and care. I highly recommend Henson Fuerst to anyone who requires assistance with an injury case. Thank you so much for all your efforts in our case."
Frequently Asked Questions
How much is my motorcycle accident worth?

No two cases are the same. Until a motorcycle accident lawyer has the opportunity to review the facts of your case, we can't determine the anticipated worth of your case. The unique circumstances of your case will dictate how much your motorcycle accident case is worth.
How long do I have to file a motorcycle accident case in North Carolina?

The amount of time you have to file a claim is called the statute of limitations. You must either settle or file a lawsuit for your motorcycle accident within the statute of limitations or you may no longer make a legal claim for your injury.

For most personal injury negligence cases, such as a motorcycle wreck, the statute of limitations in North Carolina is generally three years from the date of the wreck. For cases involving wrongful death, the statute of limitations in North Carolina is two years from the date of death.

There are a number of exceptions to these rules, however, and it is very important to talk with an attorney about your case so the proper statute of limitations can be calculated.
My bike is a total loss after my motorcycle accident. Can I keep it?

In most cases, when the at-fault party's insurance company declares your motorcycle a total loss, they will offer you the market value of your motorcycle at the time of the wreck. In exchange, they take possession of your motorcycle and will sell it for scrap salvage value.

If you have the ability to repair your own motorcycle, you may have another option to consider. Instead of giving the insurance company possession of your motorcycle, you may consider keeping the totaled motorcycle. In this case, the insurance company will pay you the difference between the market value of the bike at the time of the wreck and the scrap value they could have sold the motorcycle for.
What is the difference between economic and non-economic damages?

Economic damages are damages that can be proven as specific financial losses, such as out-of-pocket expenses, lost wages, and past and future medical bills.

Non-economic damages are damages that can't be proven as specific financial losses, such as a permanent disability, physical pain, or mental suffering. These damages may include compensation for disfigurement, scars, or other injuries.
What should I do after I settle my motorcycle accident case?

Once you reach a settlement, there is still work to be done to conclude your case. Any outstanding debts related to your motorcycle accident must be paid from your settlement amount. Depending on the nature of your health insurance coverage and your injuries, you may owe money to:

Doctors
Hospitals
Therapists and other specialists
Health insurance companies
Medicare
Medicaid
Tricare (CHAMPUS)
Others
What should I do after a motorcycle accident in Raleigh, North Carolina?
There are a few simple steps that the North Carolina motorcycle accident attorneys at Henson Fuerst recommend you take after your crash:
Visit a doctor. Some injuries, such as road rash, don't seem serious at first. Other injuries take time to present themselves, and having a doctor's opinion may help your case. It's important that you visit a doctor immediately after an accident.
Collect evidence. Take photographs of your injuries, the accident scene, and the other vehicles involved in the accident. It also is helpful to preserve any items related to the medical treatment you received, such as pill bottles, receipts, glass removed from cuts, or physical aides you used during your recovery process.
Write down the details. Take a few minutes to write or draw a detailed description of exactly how your accident happened. Make sure you include the lane you were traveling in and the path of the other vehicle(s) involved.
Obtain the police report. You can obtain a copy of the police report from your accident at your local police station. If no report was filed, you may be able to file a report at your local police station.
Contact a Henson Fuerst Motorcycle Accident Lawyer. The North Carolina motorcycle accident lawyers at Henson Fuerst believe that you deserve fair treatment under the law. We'll make it our first priority to protect your rights. Contact us at (919) 781-1107 or fill out a free initial consultation form.
What types of compensation can be recovered by a motorcycle accident attorney?
The attorneys in our firm may be able to assist you in recovering compensation for the following through discussions or litigation against an insurance company or negligent party:
Economic damages can be proven as specific financial losses.
Out-of-Pocket Expenses
Out-of-pocket expenses may include medical equipment, prescriptions, transportation costs, daily care such as bandages, medical or domestic helpers, wheelchairs, and other similar items. Make sure to keep a record of any costs you paid with or without the assistance of the insurance company.
Lost Wages
It's important that you keep all documents regarding lost wages. These documents may include: affidavits from customers or employers for whom you could not perform work, canceled checks, paycheck stubs, written orders that were unable to be fulfilled, tax returns, or any documented difference in what you made before and after the accident. You may be unable to prove your lost wages without proper documentation.
Past and Future Medical Bills
To seek damages for medical treatment, you must provide copies of all medical documentation, including copies of your medical records and bills from ambulance services, doctors, clinics, hospitals, and specialists. The North Carolina motorcycle accident attorneys at Henson Fuerst will collect this information for you. You may also document any oral or written testimony from your doctors or medical providers.
Non-economic damages cannot be proven as specific financial losses.
Permanent Disability/Physical Pain and Mental Suffering
If you file a lawsuit for non-economic damages, you may also be entitled to compensation for disfigurement, scars, and other permanent injuries. Either a judge or a jury must decide the total amount of these losses depending on the facts of your case-there is no exact formula for the calculation of these items.
As your attorney, it's our job to attempt to quantify and explain these losses by using photographs, videos, and testimonies from friends, family, doctors, and medical providers.
Our team will

protect

your rights

and fight

for your future.
A child involved in a truck accident suffered numerous brain bleeds as well as severe and permanent cognitive, physical, and emotional deficits as a result of his Traumatic Brain Injury. The case was filed in court and settled after multiple depositions of the parties and medical experts. The settlement was collected in full.
Stay Up-To-Date with the Motorcycle Accident Lawyers at Henson Fuerst
Our Raleigh motorcycle accident lawyers strive to keep our community educated and informed about the latest trends and events regarding car safety and accident prevention. Browse our most recent blog posts here:
We never charge a fee unless we obtain a recovery for you. If a recovery is not made, you pay us nothing.
Get help from a lawyer that cares about protecting your rights
Don't Expect the Insurance Company To Let You Win Without A Fight
Insurance companies make money by paying as little as possible to motorcycle policyholders and accident victims. Therefore, they'll have you jump through as many hoops as possible during the settlement process to make you more eager for a fast offer that is much less than you need to recover fully.
If that doesn't work, they may deploy other tactics such as placing part or all of the responsibility for the collision on you to limit their liability. Victims may not collect enough money to cover their medical bills and lost earnings if this occurs. At Henson Fuerst, we know the lengths that insurance companies will go to keep you from getting the money you need. We stand up to insurance companies every day and do whatever it takes to get out clients the compensation they're entitled to under the law.
We Protect Your Rights, Every Step Of The Way
Following a stressful or traumatic experience like a motorcycle accident, it helps to know that someone is on your side. Our legal team at Henson Fuerst provides our clients with more than simply legal advice and representation. We work closely with you throughout the process of pursuing compensation for your motorcycle accident injuries. You will receive personalized care and assistance you need from the moment you contact us. We'll investigate how the accident happened, what injuries you sustained, and how these injuries have affected you and your family's life. Our North Carolina motorcycle accident attorneys have the resources and knowledge to investigate the accident and take on the insurance companies to ensure that you are fairly compensated and can begin your road to recovery.
We fight to get you the maximum compensation necessary for your recovery.
A commercial truck driver ignored DOT caution signs regarding a previous crash. The tractor-trailer crashed into our client, who was the last car in the line of traffic. The plaintiff was taken to the hospital and discharged with post-traumatic headache. Months later, our client was diagnosed with many more injuries that resulted from the accident and was unable to return to competitive employment. The settlement was collected in full.
Meet our Raleigh Motorcycle Accident Lawyer
Motorcycle Accident Lawyer

Thomas Henson, Jr.
Thomas Henson, Jr. joined Henson Fuerst in 1989. He received his Bachelor of Science degree in Business Administration in 1986 and his Juris Doctorate in 1989—both from the University of North Carolina at Chapel Hill. Thomas understands how a motorcycle accident affects the lives of victims.
He is experienced in handling complex accident claims involving catastrophic injuries and currently serves on the Board of Directors for the Brain Injury Association of North Carolina (BIANC). He advocates for brain injury victims and their families across North Carolina and has presented at multiple conferences for victims of Traumatic Brain Injury (TBI), their caregivers, and brain injury professionals.
Our North Carolina Motorcycle Accident Lawyers Are Committed to Your Physical and Financial Recovery
If you or a loved one suffered injuries in a motorcycle accident that was not your fault, call Henson Fuerst right away at (919) 781-1107. When you call, you will speak with one of our experienced North Carolina attorneys absolutely FREE. We will investigate every detail of your accident at no cost to you and fight hard to ensure that your rights are protected.
3110 Edwards Mill Rd Suite 100,
Raleigh, NC 27612
P
(919) 781-1107
F
(919) 781-8048